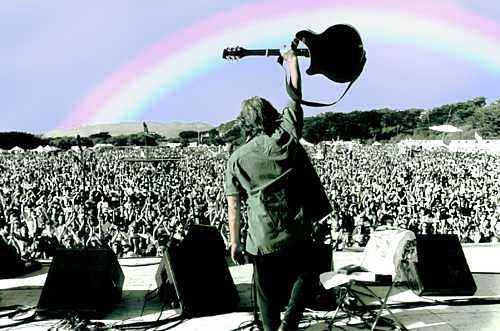 Forty years later, Woodstock is as monumental as ever. It was a magically organic moment in American history that defined a time when war was rampant. The festival was not just about the music. It was about hippies bathing naked in a lake while cooking communal meals. It was about Jimi Hendrix's electric guitar wailing the Star-Spangled Banner. It was about sex, drugs, music, youth, and the everlasting innate desire for unity. With thirty-two of the top performers in front of half a million people, Woodstock was the beating heart of a movement for  love. It was three days of peace and music that changed the world forever. Woodstock changed America, forever.
The acclaimed 1970s documentary titled, Woodstock was an anthropological look into the legendary rock festival. But this wasn't just an ode to Joan, Janis, and Jimi. Like a modern day Canterbury Tale, director Michael Wadleigh and assistant director Martin Scorsese captured American youth during the turbulent 60s using a fly-on-the-wall perspective. Their goal was not to just document the music of hippies, but to listen to their feelings about the time period, the Vietnam War, as well as the feelings of the surrounding townspeople. Woodstock received the Academy Award for Documentary Feature and is renowned as culturally significant by the US Library of Congress.
In commemoration of this monumental event, Taking Woodstock: A True Story of a Riot, Concert, and a Life – directed by Ang Lee and James Schamus – reenacts the filming of the documentary within a story of its own. It follows the autobiography of Elliot Tiber, who volunteered his family's motel to be the home base for Woodstock concert organizers. Taking Woodstock will be another foray into homosexuality  for Lee and Schamus, since Elliot Tiber was a closeted gay man until his experience at the festival. Taking Woodstock is set to be released August 14th, 2009 – just in time for Woodstock's 40th anniversary.
Filed under: Music.
|
8

Comments
Tags:
60s
,
ang lee
,
taking woodstock
,
woodstock
---
---